Our "GISS"ion Statement

Our company strives to offer all clients competitive pricing paired with the highest level of professional service in the industry. The drivers in our employ each have an average of ten years experience with transporting hazardous materials. Our driver retention rate is also extremely high.

Value-Added Services

24/7 Availability
GISS never stops. We have drivers on the road 24 hours a day, 7 days a week, 365 days a year. The same goes for our Customer Service team – we're available 24/7/365 to help you with questions, problem-solving, orders, inventory management, and emergencies.
Same-Day Delivery
We are always open to call-ins that are short notice, and most often, we can fulfill them. We offer quick response times. You'll know right away if we can fulfill your order.

Timed Deliveries

Grand Island is the only Western New York carrier that offers timed deliveries. Our dispatch and drivers will coordinate within 2 hour delivery windows to meet our client's specific needs. We go the extra mile to make sure your operation is accommodated!
Split Ship Delivery
Most of our trucks are equipped with several compartments. We can haul different fuels in one run, with only one delivery charge. Our drivers are expertly trained to accurately load even the most complex orders.
Any Size Delivery
GISS is capable of small-volume deliveries. Conversely, many of our trailers are specially ordered to accommodate extra high volume for bulk deliveries or anything in between. 
Superior Equipment
Our equipment is the best on the road because we fine-tune it to suit exactly what we need. We special order our tankers to meet the highly specialized needs of our fuel customers. We also do repairs in-house so we know that they're done right.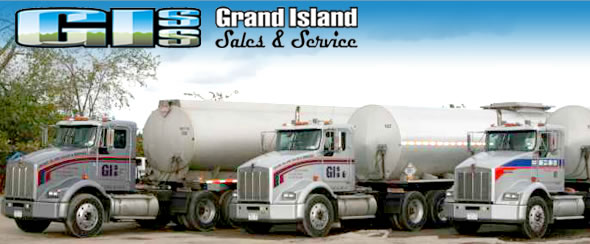 On the Road for Over Three Decades
Grand Island Sales and Service has been hauling and wholesaling petroleum products since 1974. Just two years after our start, GISS expanded operations with the purchase of a gas station on Grand Island, New York. By the 80's, the GISS fleet included 12 trucks plus the operation of 12 retail gas operations.
Today, GISS no longer owns or operates retail stores, and instead focuses solely on the transport needs of the industry. GISS's 28 trucks and 50+ trailers haul a variety of hazardous products including:
gasoline
lubricants
anti-freeze
liquid paving asphalt
propane
diesel
heating oil.
Our trucks can be seen on roads and service stations throughout the Eastern US and Southern Canada, specifically including New York, Pennsylvania, Ohio, and Ontario.
Our customers include manufacturing, industrial, retail, airport and government operations.
Working For Grand Island Sales & Service
Are you looking for a job that values quality and safety? We always put those things first, whether it's in the office, behind the wheel of our trucks, or in the service shop. Come work for a company with strong core values, who values their employees.